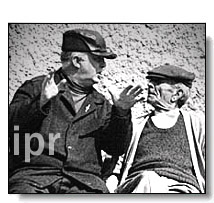 IPR Issue 25
CONVERSATIONS ISSUE


Editors: Susan Terris
and Margaret Kaufman

Poems in Conversation
Introduction by Susan Terris

"Duet of Tree House and Rain (7:30 a.m.)";
"Psalm of Morning Mist"


Sharon Dolin
"Driving Through Andalusia"; "The Good Rain"


Sean Patrick Hill
"Mishmish"; "Ten O'clock"


Betsy Rosenberg
"River Willows"; "Occasional Mudslides in the Rain"

George Wallace
"Don't Be Absurd"; "Dali Is Creepy"


Erin Bealmear
"First Timer"; "Warning"


Kenneth Pobo
"Subvertisements for Utopia"


Jeffrey Ethan Lee
"Letting Go"; "Lady Lynne"


A.D. Winans
"Qing"; "Soot"


Reid Mitchell
"Urban Fox"; "Weasel"


Simon Zonenblick
"The Language of Crows"


Steven Schutzman
"Watching the Birdwatcher"; "Sunglasses"


Richard Schiffman
"Hollow Lamp"; "Birthing a Brooklyn Legend"


Richard Fein
"Bildungsroman"; "Surrogate Toothbrush"


G.C. Waldrep
"Telling"; "Womb Song"


Lynne Thompson
"the rock cast the stone to flight"


Bryan Reid
"Conversations with the Sculptor"; "Braid"


Amber Flora Thomas
"Intravenous"; "Ode to Oscar Levant"


Candace Pearson
"Spam Mail Has Sent Me a Poem"; "Word Gathering"


CB Follett
"When I Am Old"; "Old Apple Eaters"


Melanie Maier
"Chance"; "Sky"


Jeanette Clough

---
In Posse: Potentially, might be . . .

Short Stories
"Independent"

Abigail M. Chao
"Victims"


Gabriel Check
"Quantum of Solace"


David W. Landrum
"The Caregiver"


Kristina Marie Darling
"Est Summa Nefas Fallere (Deceit Is a Gross Impiety)"


D. E. Fredd
"Send Me Work"


Katherine Karlin
"Quantum of Solace"


David W. Landrum
"Idiot"


Tom Mahony
"Snow, Falling"


Dan Moreau
"Shado'"


William Painter
"Conversation Theory"


Ben Paris
"But What Do You Think?"


Alexis Enrico Santi
"Heard on the Walk Between Classes ... "


Robert Swartwood

---
Archives
Mast
Submissions