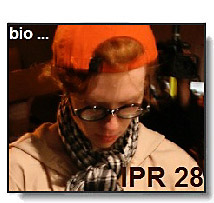 IPR Issue 28
THE BIO ISSUE:
GRADEABLE OR BIO DEGRADABLE

Poems
Introduction by Susan Terris

"What I Think About Death, if Anyone Asks";
"Things I Never Meant to Say"


Melissa Carl
"House Keep: A Suite"


Nicole Cooley
"History of Lightning"; "Unfinished Houses"


Keith Ekiss
"Palm Kernel"; "Growing"


Oritsegbemi Emmanuel Jakpa
"Koan"; "Dandelion"


Moira Magneson
"You Know the Rest"; "Rhinoceros"


Katy McKinney
"Teen Jesus under the Grapevine"


Mihaela Moscaliuc
"Wide Awake at 3 a.m.";
"An Ad on Late Night TV"


Jim Natal
"Biography"; "Twice at Lake Pepin"


Rodney Nelson
"Moving Closer in the Field";
"you can forget if you really wanna or Stirring"


Lauren Nicole Nixon
"The Dodge Dart"; "Love Notes"


LeeAnn Pickrell
"Reunion"; "My Ghosts"


Rich Schiffman
"Apotheosis"


A collaboration:


John Amen & Daniel Y. Harris

The Bio as Prose Poem: B to Z
---
In Posse: Potentially, might be . . .



Creative Essays
Introduction by Tatyana Mishel
"Identifying [with] Identities: A Dilemma"


Samantha Bell
"Costume"


Elizabeth Enslin
"Timekeeping"


Jeannine Hall Gailey
"Memory Scape: A Memoir of Texas"


Brittney Inman
"Family Traditions"


Sandra R. O'Briant
"Mulligan"


Linda Neal
"Impression: Midafternoon"


Janice Peebly
"Huckleberry Patel"


Ashok Rajamani
"To Catch a Mockingbird Like Chocolate"


V. Barras Tulacro
"Blizzard, 1990"


Lauren Trembath-Neuberger
"Arabian Desert Revelations"


Diana Woodcock


---
Archives
Mast
Submissions